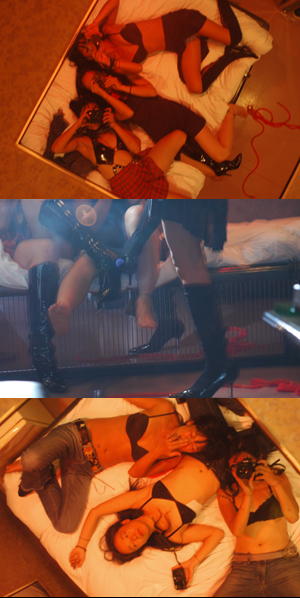 近年働く女性が増え世界的にみても責任あるポジションでキャリアを積んでゆく人が目立つようになってきました。それに伴い世間では女性が強くなったといわれていますが、どんなに仕事で能力を発揮していても女性は女性らしさを持ち、フェミニンな部分をもっていてその強さは男性のものとは違います。ただ、その強さがひとりよがりやネガティブな感情に邪魔されて、孤立してしまうことはとても悲しい事です。仕事を持つ女性もそうでない人もお互いに理解しあい協力することでより向上してゆくことができます。3Pは3人が同じ職業を持ちながらお互いを尊重しあいさらけ出し合い影響しあい3人のエネルギーがお互いの中を循環しあい3倍以上のものになり、そのエネルギーを表現に換えてゆくプロジェクトです。
★
会場
:hpgrp【エイチピージーアールピー】
>hpgrp Official Site<
銀座6丁目、すずらん通りにある古くて小さな6階建てのビル。
アッシュ・ぺー・フランス(株)が新たな実験的スペースとしてたちあげたショップ・プレス・アートスペース 。
〒104-0061 東京都中央区銀座6-9-16 Tel.03-5537-2740 Fax.03-5537-0830
[OPEN] 12:00~21:00(mon-sat), 11:00~20:00(sun & holiday)
★
開催期間
:2004年10月1日(fri)~10月11日(mon)
★
オープニングパーティー
:10月1日(fri)18:00〜21:00
★
Photographer
:BECKY YEE(Commune), MARI SARAI(Angle), MIYUKI PAI HIRAI
★写真集:2,000円<hpgrp銀座にて写真展開催中より販売>
★I LOVE 3PオリジナルTシャツ:1,700円<オープニングパーティのみ限定で販売>
---
Message from BECKY YEE

The birth of 3P
For over a year I have been dreaming of putting together a photo art exhibition with all female photographer. I wanted to help promote a publicly strong independent female image in Japan. I think the women in Japan are very strong willed, but because of many cultural reasons, women in high profile role models are too few.

I think that Japan has many cool female photographers that are working commercially and in the art world. So I just wanted to help further promote their names and the type of work they do to a wider market.
I had been kicking around this idea of an all female photographers exhibition for a few months and when I had some down time in a café my mind and imagination would wander and dream about putting together an exhibition.

I was at the Be Natural modeling agencies art exhibition held at Claska when I ran into another female photographer Mari Sarai. I love her to death. We are twins. Not only do we look similar and we also have a lot of energy, and very capable at doing our jobs, but at heart we can be really girlie and to many people`s disbelief can be very shy.
Drunk and silly, mari said to me `hey I have never had an exhibition like this, I want to do one` and I knew then and their that Mari and I would be doing an exhibition together. I really respect her vision and am very happy to be collaborating with such a talented artist.

Then about a month later during golden week at a bar-b-que on a hill in yoyogi koen, I met up with Mari again. We were full of drink and good laughter. The crowd was mostly hair and make up artist, stylists, PR people and of course many photographers. We all had our snap cameras in our hands and we were taking pictures of ourselves and our friends getting silly, some photographers even double fisted with cameras
Flashes were flying all over the place it was like a red carpet scene, we were our own personal paparazzi.
It was too much. We were riding high on just plain fun and craziness for an intense 5-10 minutes. It was such a natural high it was just as much fun as sex.
A bit overindulgent and sometimes too much for the senses but everyone was just loving it. That night I went home and thought of the name. Mixing sex industry porn words and what we did that night and I labeled it " a camera orgy".
I thought maybe we can grab a ton of female photographers but then I heard of the slang 3p which means Menage-a-trios so I wanted to make the exhibition with only 3 female photographers. I had nothing to write with at my apt so I used a black eye liner and wrote on a scrap of paper 3p: ALL GIRLS CAMERA ORGY.

The next day I called a friend who worked at HP france and asked if she would be interested in hosting a great cool art exhibition happening that is going to shake up Tokyo fashion, music and art scene. I pitched her the idea of using 3 photographers, each would get a floor in a building and then we would share one floor where we collaborated on a photo shoot.
Finding the 3rd person who would fit well with mari and I was a challenge. Here are so many cool female photographers in Tokyo but it had to be a person who could get silly and have fun with us too. I looked at all the female photographers who work commercially but was a little undecided about who would be a good team for 3P. I am so happy that Pai is a part of the team. Mari and I go off the deep end and she is a great balance.


---
Message from MARI SARAI

半年くらい前に、"BE NATURAL"っていう事務所の写真展に行った。
そこで、Beckyと合流して、すっごい酔っぱらってたんだ。
"私もこんな写真展やりたいよ-"ってBeckyに言ったら、
"Hey, girl ! Let's do it ! "って。
こんな調子で、私達の「東京騒がせよう計画」が始まって、
この3P写真展に行き着いた。
とりあえず、女子だけで、やりたかったし、同じエネルギーとパワーを
持ってる、もう一人の女カメラマン探すの手間どったけど
PAIちゃんが合流して、一夏中バタバタしながら今もまだ
皆、事務所も巻き込んで頑張ってます。
私にとっても初写真展。いいもの作らなきゃヤバイんで、とにかく、
スーパーすごいのを、皆様に見せたい!!!
---
Message from MIYUKI PAI HIRAI

3P ALL GIRLS CAMERA ORGY

私たち三人が集まると化学反応が起こる。

目に見えない何かが働いて全てが動き出す。

不可能が可能になる。

張りつめていた空気が流れる。

気づいているのに気づかない振りをしている事があからさまになって壁をぶち破る。

そのままでいることは大切な事だと確認させられる。

女だって男だって関係ない、私たちはおんなじ人間なんだものと開かれた心を見つける。

そして女であることを自覚する。

前向きに日々精進することが大切だと思う。

ファインダーを覗いてそれぞれの目がキャッチするものは全く違うけど、
根底にある魂が動かされる瞬間がいつだかを知っている。

ANY GIRLS CAN RULE THE WORLD!

私たちのエネルギーの流れる行為がCAMERA ORGY。