Message from Becky Yee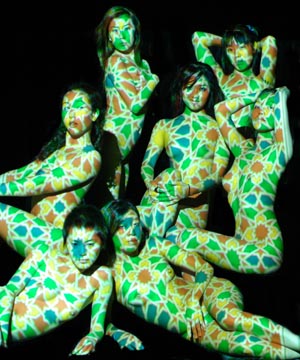 Shinjuku Electric Lady Land - images on the ceiling
I had the feeling this year that art was dead. We have seen everything in raw living color. Magazines like VICE make sure or it (love that mag). I thought that there would be more of a move to show what we couldn`t see. The spirit and light energy that people have. I think Spirituality would be making a big comeback.
My friend Kanya gave me a book on the kaballah and I really liked it and believe in light energy. I liked the idea of the eyes of the spirit and the eyes of the mortal. With our mortal eyes we are very limited to the physicial senses but the eyes of the spirit can feel a lot more depth.
I am also a huge fan of shinjuku`s kabukicho. Which is the red light area with tons of sex shops and strip clubs. So I had an idea of mixing the two spirituality and sexuality. I was thinking about the 60`s and an album my father had by Jimi Hendrix called Electric Lady Land and it had images of about 20-30 women completely nude holding Jimi Hendrix`s album. I love that image and it was very impressionable for a little toddler to hold and play with.
I wanted to take images of women and silhouettes of their body and mix it with spiritual and religious images and designs. I had asked about 20 friends and acquaintances to come and pose naked for me. 9 women showed up to the studio and after I did the setting, I asked one women to take her clothes off. At first everyone was a little shy. I can still remember her saying "Why am I the only one who has to take there clothes off?" "Okay okay" I replied, "I will take my clothes off too." And I did. At first it was only my top and I did most of the 4 hour photo shoot in only my underwear.
I made sure that the whole studio set was all women even the studio assistants and my assistant. It was a riot at first everyone was a bit self conscious but within a very short time everyone was walking around the set butt naked.
The other women were so funny, they went from being a little timid to take their clothes off to like being at a sento or public bath house. i wanted to shoot everyone at the same time, but with the complex design it was better shooting eveyone one at a time. So there was a lot of down time for my friends who were so wonderful and patient. Half way through the shoot I turn around and I see them all sitting on the floor in a circle, their legs wide open in a V and in the middle of their incongruent circle is a pizza. They ordered pizza and the person who went to the door put on a robe but behind her were 8 other naked models with a naked photographer taking their picture. I heard the pizza guy's eyes popped out of his face he was so shocked but no one even cared we were just so comfortable naked in front of each other.
We all had a great time, laughing and being naked and free . This is defnitely all my hippy parents faults. I was always walking around naked in central park. It was a great memory. And the first time I ever did a photo shoot naked.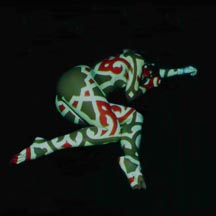 Message from Becky Yee
Shinjuku Electric Lady Land main shoot
Photos by BECKY YEE

After shooting 9 of my friends i realized that I wanted to shoot just 1 model and make that the main part of my exhibition. That initial idea came from the president of my management company, Yumi Kunimoto. She suggested it before, but I wasn't convinced until I saw the results of the 1st shoot with my 9 friends. Yumi Nakahara who works for the camel pleasure factory was the most ideal model for the main shoot. she had a great body, slender, gorgeous white skin,big breasts and she was willing to shave her head. The shaved head was key for some of the pictures I wanted to do. Keeping with the theme of mixing sexuality and spirituality and Inspired by shinjuku's kabukicho district (which is the red light district in Tokyo) the neon signs, sex shops and old burlesque strip bars with silhouettes of women's bodies I wanted to shoot one model 3 different ways. I thought the mortal eyes can only see the physical body, but each of us has 2 other dimensions and that is soul and spirit. So 1 person would be photographed in the same pose but one would represent "body", one would represent "soul" and one would represent "spirit".

I didn't have any budget to rent a studio so my friend Yannick was kind enough to lend me his apt. He had tall ceilings and not much furniture so i thought it would be easy to move stuff around to build the kind of set I needed for the shoot. I know when I showed up with all of the lighting equipment he was shocked and a bit worried that we would be messing up his wood floor so I took extra special care when I moved any equipment around. I knew the space was tight so i didn;t even request an assistant to help on the shoot because they couldn't fit in the apt.

I built the set the night before the shoot and reshot my friend Hikari, Yuko, Mai and my friend Rey's girlfriend. The set was already made but i wanted to get a full body standing shot of the model and realized that there was not enough distance in the living room so I had to be in a tiny kitchen while the model was in the living room. I had to squeeze in between the 4 x 5 view camera and the refridgerator everytime I needed to adjust something on the set or fix something on the model. it was like a comedy.
Stylist extrodinaire Kinko Abiko was so kind to bring a dress she borrowed from Irie press room, a french label that fit the theme perfectly. Everything seemed like it would go smoothly, but the pictures representing "body" were really difficult. I asked last minute if Noboru Tomizawa super famous amazing hair and make up artist to bring two wigs and do the hair. Even though he is more of a make up person I had already asked Aki Matsuhisa to do the make up. They are both wonderful people and talented artist but they just did not fit as a team. So frustration, some fighting and disagreements, very real and human problems arouse and it took 5 hours to do the hair and make up and still everyone was not 100% satisfied with the results.

We were all so tired, we had been shooting since 10am and it was nearing 10pm. We were already wearing out our welcome at my friends place and we almost gave up and discussed shooting the rest another day, but I had to return the equipment tomorrow and didn't want to impose any more on my friend so we decided to finish up that night.

Then it was another 2 hours to do silver and gold body painting on the model we were exhausted but when we all saw the first poloroid for the pictures that represent "soul" everyone's mood shifted and really it was so powerful that we all felt a warm light. Aki's idea of having the gold around her chest was so great, because we thought the soul comes from around your chest whearas your spirit is more around your stomach, belly button area.

The photos representing "spirit" was a breeze. some technical problems but they were very natural.
here are the resuts of that days shoot. I want to give a big thanks to the crew Noboru Tomizawa, Kinko Abiko, Aki Matsuhisa, Yumi Nakahara and Yannick

BODY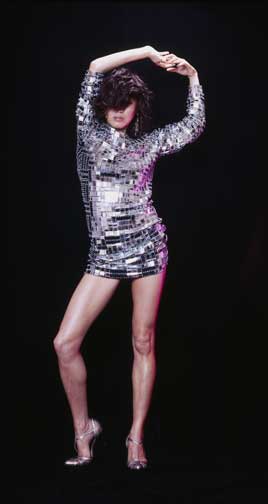 SOUL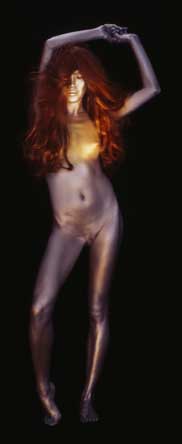 SPIRIT